As we entered the gates of Mumbai's massive Film City, security guards descended upon us demanding to know what business we had there. Just a few yards in front of us was Kareena Kapoor Khan, one of Bollywood's biggest names, makeup artists fussing over her face. But we weren't there to see Kareena. We had come to meet another legend of India's booming entertainment industry – Balwan Singh Negi, who has worked as a spot boy for the past 40 years, serving chai on the sets of upwards of 200 films.
From behind the scenes, Bollywood's spot boys keep the industry going. They move equipment on set, keep gawking crowds out of shots, perform odd jobs as needed, and of course, make and serve the chai that gives actors the boost they need to film the same scenes over and over.
When we told security we had come to see Mr. Negi, known affectionately as Bahadur, a guard replied, "Oh, that is a very senior man you have come to see!" We were whisked past Kareena's entourage and beyond a table with a thermos labeled "VIP Tea," to the side of a film prop warehouse where Bahadur was stirring a pot of boiling milk.
"Yes, you have come to see me so let me tell you everything," the 62-year-old Bahadur said, bubbling with energy. "I make tea for all the isstars. Some want black tea. Some want ginger. But, my dear, most want my masala chai. The VIPs come here and say, 'We need our special chai' so I put some in this 'VIP' flask, but I will tell you a secret – it is the same chai, just with a little less sugar. You know, my dear, everyone is on a diet today. All the high-class artists want green tea these days."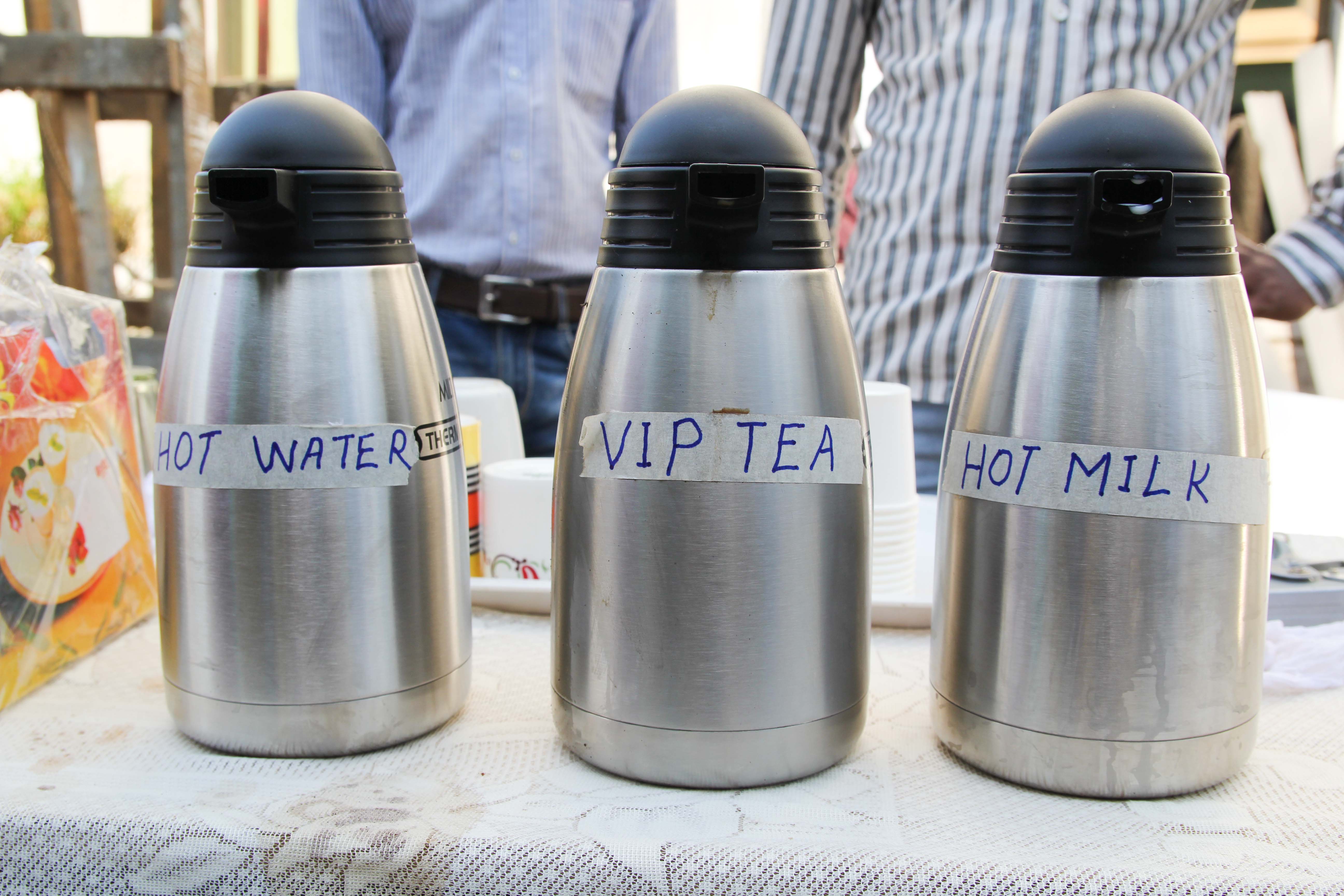 We had heard as much. At a recent movie shoot in Dharavi, reportedly Asia's largest slum, Chhotu, the set chai wallah, told us masala chai is going out of fashion in Bollywood. The shift is being led by the largest legend in the industry, Amitabh Bachchan. "I just bring Amitabh Ji hot water, then he makes green tea in his trailer," Chhotu said.
The green tea trend is evident the morning we visit Bahadur in Film City. The advertisement being filmed with Kareena Kapoor Khan is for Tata Tetley's Green Tea brand.
Bahadur's story may sound familiar to aspiring American actors who come to make it in Hollywood only to find themselves waiting tables. He left his village in Uttaranchal in 1971 at the age of 20 and came to Mumbai with dreams of silver screen success. "I loved films for the art," he said. "I didn't want to be a hero. I just wanted to act."
A spot boy taking a break next to Bahadur suggests he could try out for a role as a mama, an elderly uncle figure. "He can do it. He's a rock star!" shouts another.
But Bahadur says the passion is gone. "Junoon katam ho gaya. I love the job I have."
After three years without landing any roles on screen, Bahadur found work as a spot boy on Jai Santoshi Maa, a low-budget film that became one of Bollywood's biggest blockbusters. In 1980, he met a young director named Subhash Ghai and worked on one of his first films, Karz, about an unjustly murdered man who is reincarnated and wreaks vengeance. The film became a hit and Ghai's career took off. Bahadur has been with him every step of the way, working on Ghai's sets throughout India and around the world. "I have worked on films in Africa, London, New Zealand, Bangkok, Indonesia, Singapore, everywhere," he says, showing off the stamps in his passport. "But everywhere I go I make Indian isstyle tea."
Ghai said Bahadur brings an uncanny positive energy to the set. "He's been with me more than 30 years now and he hasn't slowed down a bit." Indeed, it is hard to keep up with Bahadur as he rushes around the set, bringing cups of tea to production assistants one minute, putting away a spotlight the next.
"My nickname is Superfast," he says, beckoning us to hasten our pace. "When I arrived in Bombay, I had so much energy. I would stay in Santacruz and walk everyday to the production offices in Churchgate [about 20 kilometers]."
After the Kareena Kapoor Khan ad shoot ends, Bahadur sets up for the afternoon. Subhash Ghai is filming a few final scenes for his forthcoming Kaanchi, starring Rishi Kapoor, Kartik Tiwari and up-and-coming Bengali actress Mishti.
We trailed Bahadur as he kept the crew caffeinated between shots. At one point Ghai stood on set, scratching his head. Something was missing. Apparently it was us. He called us over and asked if we would like to be in a scene. Of course we would. A line producer handed Zach a guitar and instructed him to play. Rishi Kapoor put his arm around Resham, said a few words on a cell phone as he stroked her hair, then put his face close to hers as Ghai's voice boomed, "And scene!" It all had the makings of movie magic.
We were high on our 15 minutes of Bollywood fame. But for Bahadur, it was just another day on the job. "It used to be very exciting, the movie making process, but now it is nothing special. I don't even recognize the faces anymore. Ranbir Kapoor, Rishi Kapoor, Kareena Kapoor, Karisma Kapoor, whichever Kapoor, it does not matter," he said, rattling off names of one of Bollywood's most prominent families. "I am doing my job, they are doing their job. Sometimes I don't even know the name of the picture I am working on."
Bahadur waxes philosophical about stardom and the evolving nature of the industry. "The famous actors and actresses are all nice. The problem is they have to work all day and all night and it makes them unhappy and upset. That gets misconstrued in the press as them being snobby or arrogant, but that's not it. They are just under a lot of stress." He suggests celebrities are not really happy. "How can they be? There is too much pressure today. It is a reflection of society. Everywhere in the world people are working so hard and life has become so stressful."
Bahadur says he is content not to be one of these stressed stars. But he clearly still has a love for the camera. When we ask to film him serving chai, he perks up and snaps into action. He rushes to a spot boy taking a break and theatrically thrusts a cup of tea and a biscuit at him. The spot boy protests that he has already eaten and does not want the biscuit. "Just take it!" Bahadur yells, drawing laughs from the crowd that has gathered.
A few yards away, Kareena Kapoor Khan stands alone waiting for filming to resume. In the meantime, Bahadur has stolen the show.