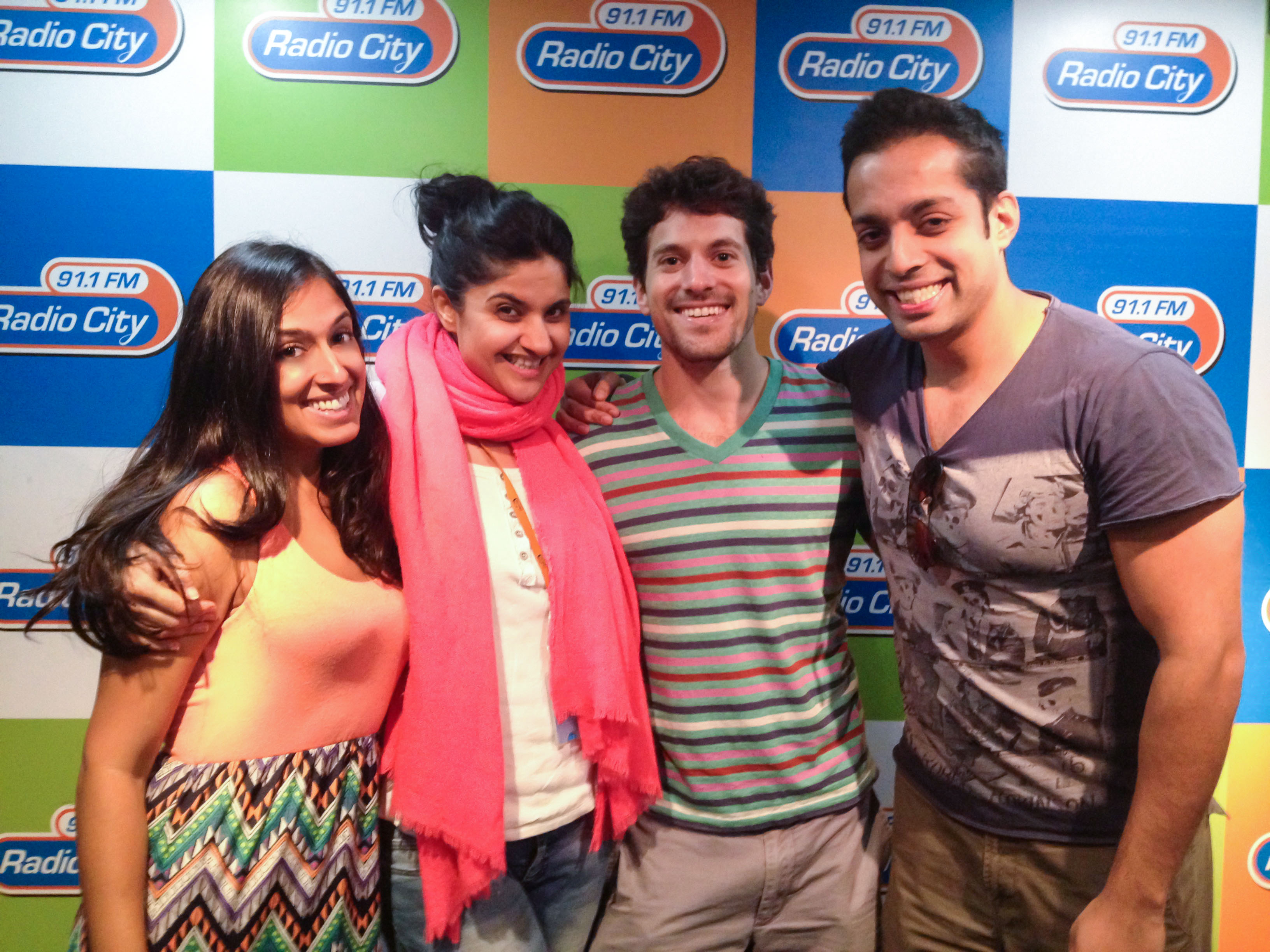 "Chai! Chai! Chai! Chai! Aap aksar sunti ho gayi local train mein ya apni gali zaroor agar koi bechta hoga. Toh lekin Radio City 91.1 par aaj do khaas mehman hamare saath…"

(Chai! Chai! Chai! Chai! You'll often hear this from someone on the local train or on your street. But today on Radio City 91.1. we have two special guests…)
So began our Hindi radio debut on one of Mumbai's highest rated morning talk shows, Kasa Kai Mumbai on Radio City 91.1 FM. Just as millions in the Maximum City were drinking their first cup of the day or sitting stuck in rush hour traffic, we chatted with hosts and Salil Acharya and Archana Pania about Bollywood and where to get the best cup of chai in Mumbai.
Listen to the full interview here:
The spicy masala chai served in the Radio City studio was just what we needed to get our brains into Hindi mode. (The hosts had warned us their audience gets turned off by even a few words in English and the studio's walls are plastered with papers reminding radio jockeys: "WATCH LANGUAGE. HINDI.")
After commenting on our favorite film of the season, Ram-Leela, we gave a shout out to two of our favorite Mumbai chai wallahs: Santosh and Rajendra.
Santosh, Pandurang Budhkar Marg outside Kamala Mills back entrance, Lower Parel
Santosh now runs Janta Seva Hindu Hotel, the tea stall where he has been working for the past 15 years since he was a boy. We were tipped off to Santosh by Joanna Lobo, a reporter at the newspaper Daily News & Analysis, or DNA, when she was writing a piece on our chai project.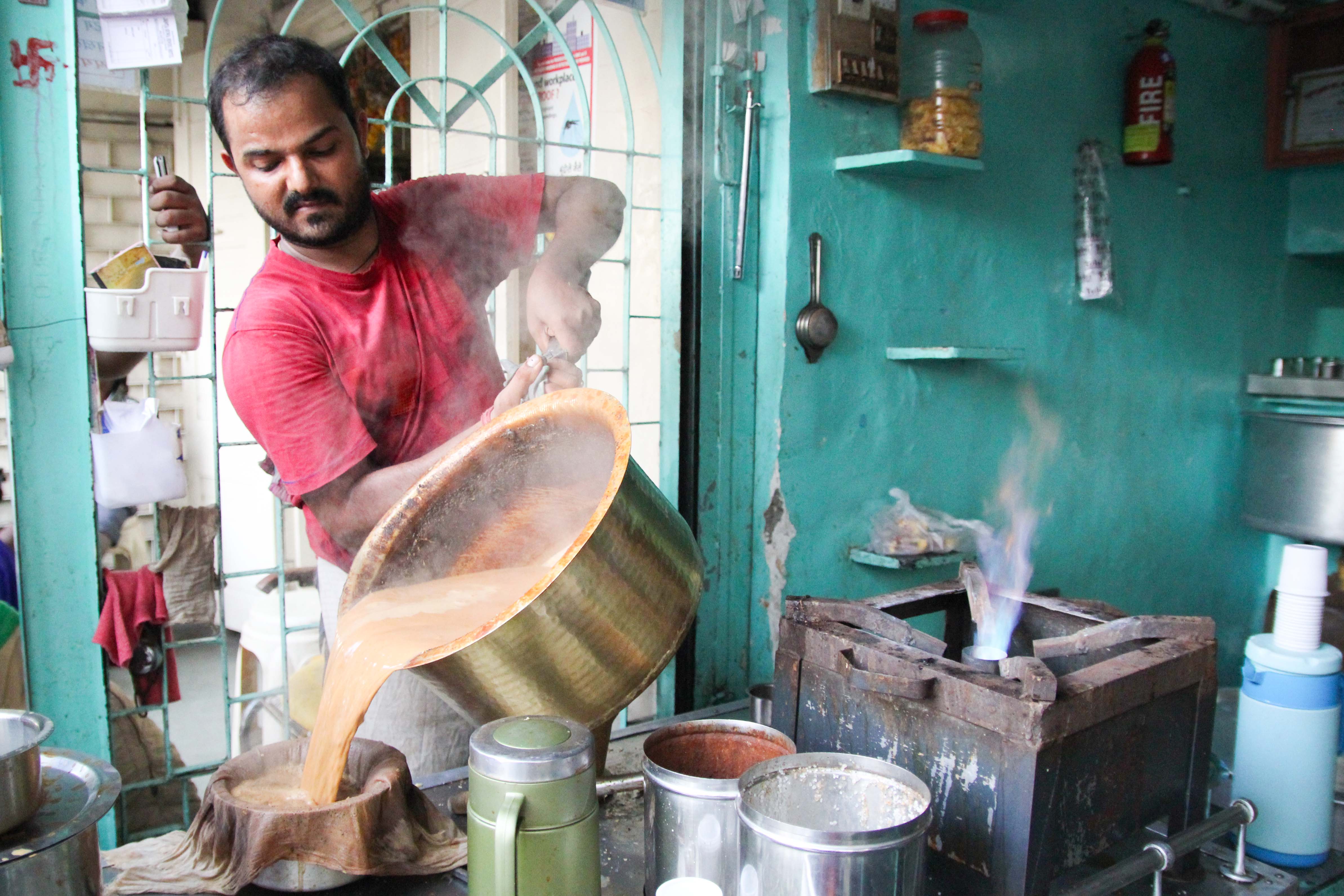 "Most of the DNA staff would go to his stall every day," she said, recalling how she and her colleagues would gossip about office politics over cups of Santosh's gingery chai. DNA has since moved to a new office complex about twenty minutes away, which has imposed a change in caffeine consumption patterns – there is a Starbucks in the lobby and chai wallahs are prohibited from entering the complex. This has caused a crisis among the DNA staff.
"The whole profession of journalism revolves around people drinking chai and having smokes," Joanna said. "[Santosh's] chai is worth the walk, but we just don't have time."
Joanna mused about the possibility of getting permission for him to deliver. If she can arrange it, Santosh said, he would be happy to oblige. But he would need someone to do the delivery for him – his stand is usually busy with at least 50 customers waiting for a hot cup of his special ginger chai.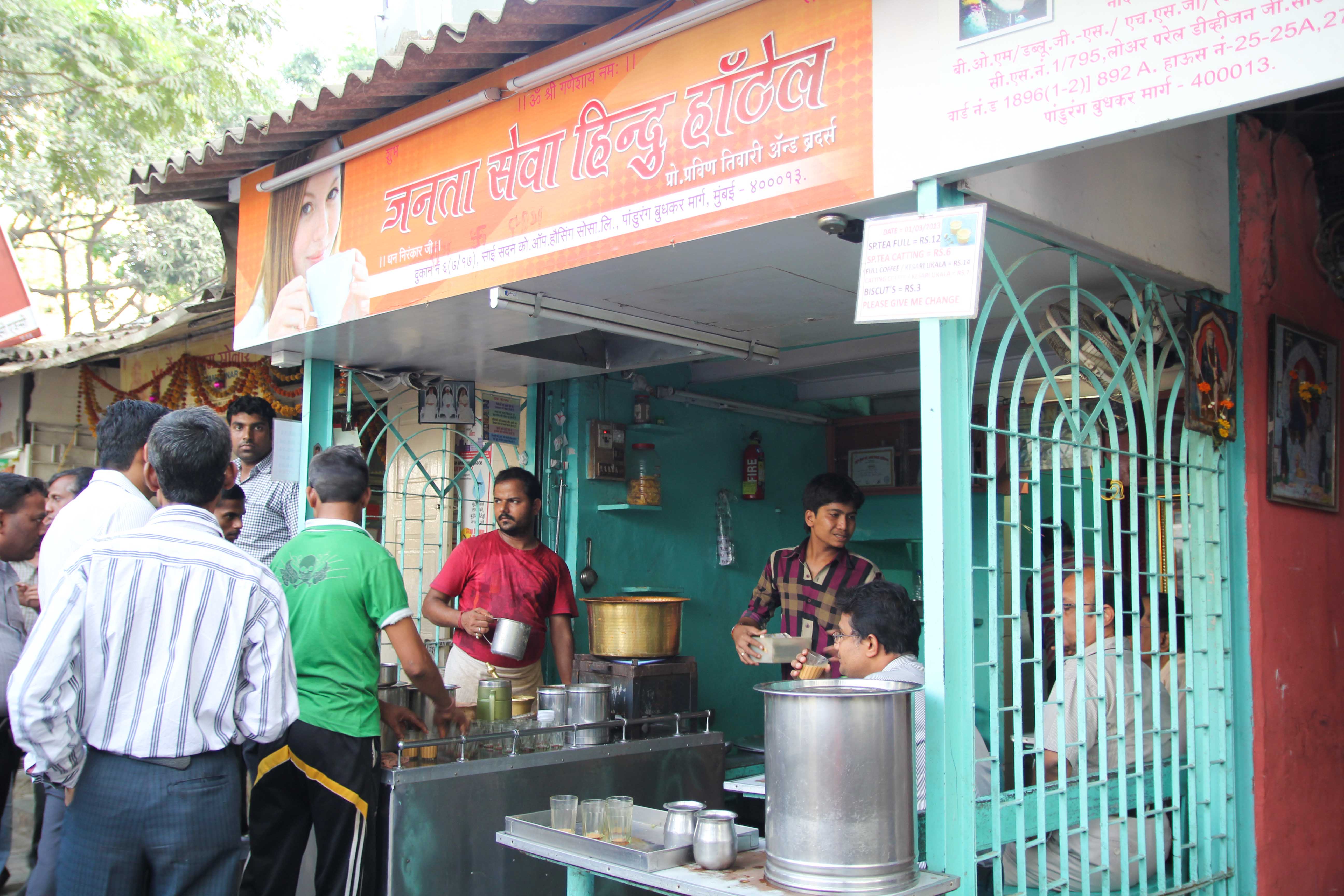 Rajendra and Baskar, B Keer Marg opposite Paradise Cinema, Mahim
Forget Deepika and Ranveer. The hottest couple in town is chai and vada pav – a love marriage made for Mumbai.
Rajendra (accidentally referred to as Santosh in the interview) and Baskar have been celebrating this relationship for the past 20 years. The two set up their businesses side-by-side – Rajendra selling chai, Baskar selling vada pav – under the same tarpaulin on a shaded sidewalk in Mahim.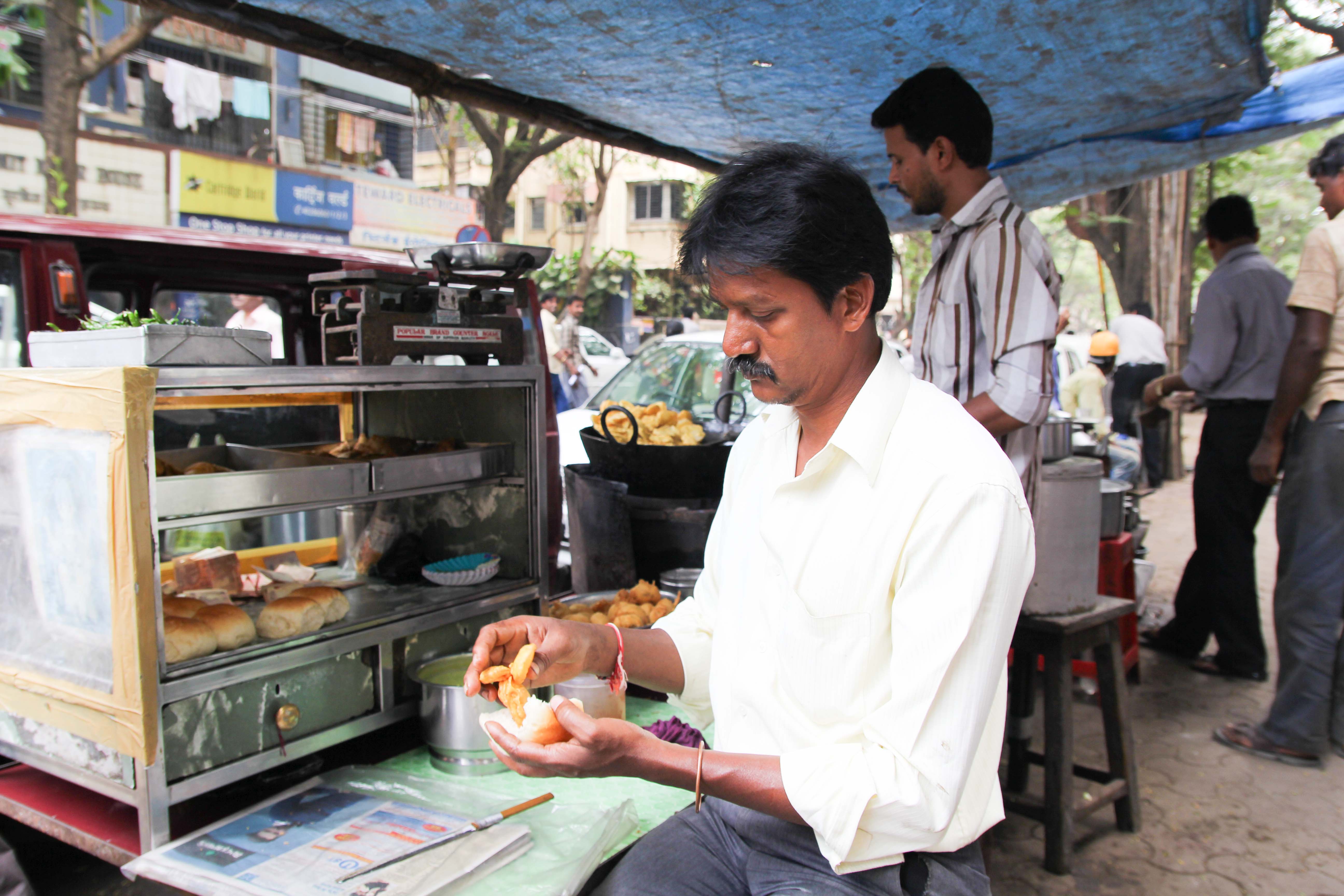 Most customers come for their routine cup of chai, but once they get a whiff of spiced batata vadas frying, it is hard for them to resist Rajendra's cry: "Chai piyo, vada pav khao!" Drink chai and eat vada pav!
Rajendra's chai operation began first. In 1991 he started the tea stall with his father who had lost his job in a garment factory when Mumbai's mills began to close. A few years after, Baskar set up shop next to Rajendra, making an assortment of fried snacks including samosas and pakodas. Of course, his best seller is vada pav – a mashed potato patty laden with ginger, garlic, chillies, onions and spices, coated in seasoned besan, or chickpea flour, then deep-fried and sandwiched in a soft bun smeared with spicy mint, coconut or tamarind chutney.
Rajaram Prasad, who works at a nearby construction site building a high-rise condominium, has been enjoying Rajendra's chai and Baskar's vada pav every day since he began working at the site several months ago. Originally from Bihar, Rajaram replaces traditional Bihari snacks like litti chokha with Mumbai favorites. "I take this vada pav two times day," said Rajaram during a recent morning break. "Then after each one I drink chai."