Mornings start early in Rettanai, a small agricultural village about four hours south of Chennai, Tamil Nadu. Cows begin to rustle and roosters start to crow by 4 am. "That's the village alarm clock," jokes a local.
If the animals don't wake you, the temples surely will. By 4:30 the main temples in and around the village are competing to see which can blare prayer music the loudest. The old speakers can hardly take it and emit a mix of crackles and garbled chants.
But a quieter awakening takes place at Mohan's tea stall. Farmers, eager to get into the fields early and finish their work before the oppressive late morning heat sets in, gather around one of Rettanai's oldest tea shops at dawn and wake up with Mohan's milky chai. For forty years, men (and the occasional woman) have gathered at the stall to discuss village matters, read the newspaper and prepare for the day ahead over a cup of hot tea.
Mohan's daily routine begins at 3 am when he milks his cows – "it is the first thing I do before I even brush my teeth," he says. Mohan will go through about ten liters over the course of the day to serve his regular customers.
We visited Mohan on Pongal, the Tamil harvest festival. We wondered if the village tea shops might shut for the holiday, but Mohan opened his stand even earlier than usual, explaining the importance of starting the year on the right foot. "We wake up especially early on this day. Some people might open their shops early and then close them to handle their Pongal festivities, but we stay open all day to start the year right. If we were to close, it could mean that business will be bad the rest of the year."
As the sky lightened from black to deep blue above the coconut trees, Mohan's customers began to arrive. Wrapped in shawls to ward off the nippy morning air, they only had to walk up to the stand with a head nod for Mohan to begin preparing their orders.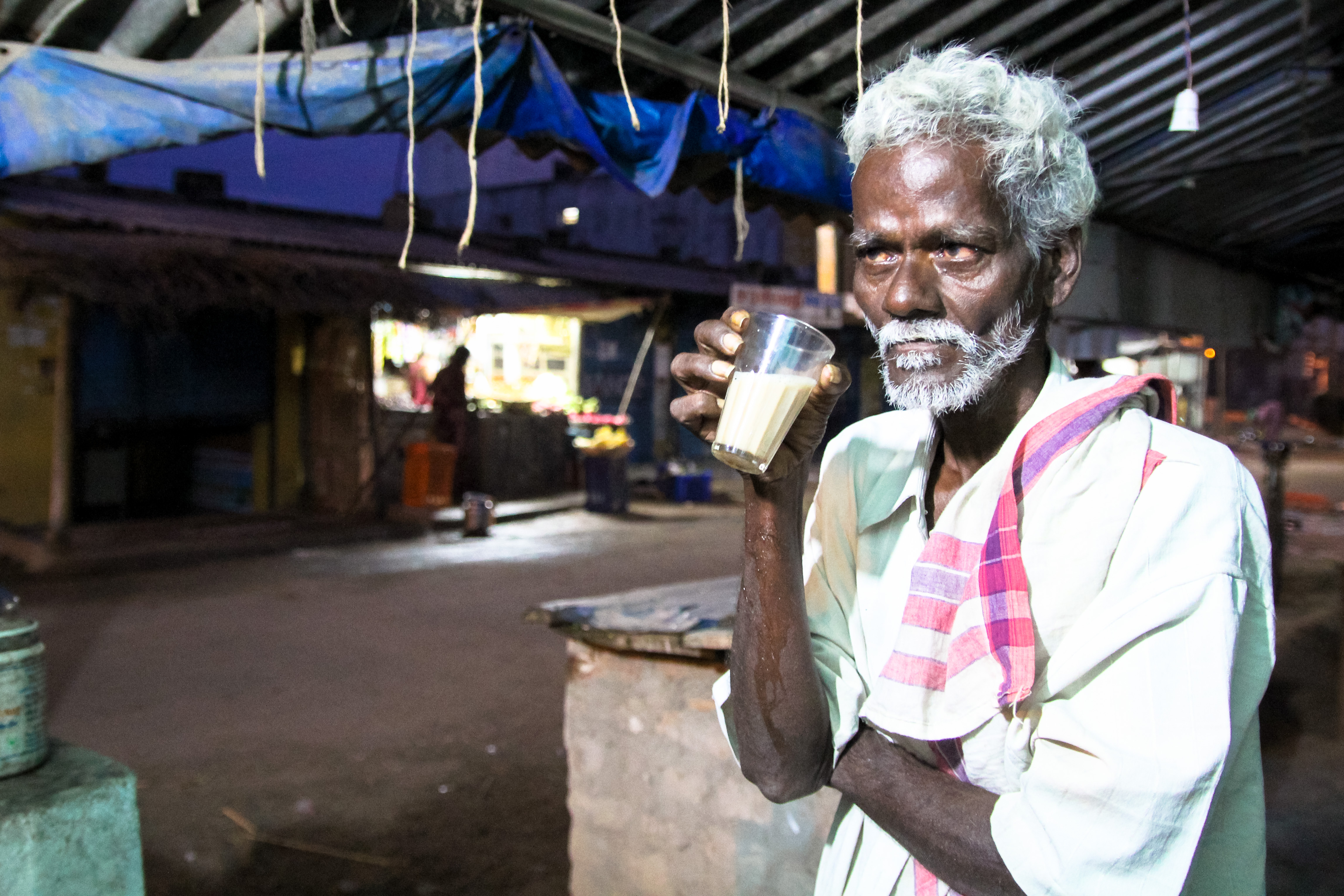 In the tradition of many south Indian tea kaddais (as chai stands are called in Tamil), Mohan's setup includes a large copper boiler filed with hot water, a pot of steaming milk and a smaller tumbler of brewed black tea both perched atop rusted tin stoves filled with burning coals. With each order, Mohan ladled milk and sugar into a glass, then strained the tea decoction through a worn piece of cloth before pouring the contents back and forth to achieve the perfect frothy cup of chai.
Unlike the dum method of preparation commonly found in north India, in which all ingredients are thrown together in a pot with the resulting cups of chai more or less the same, Mohan's preparation allows him to make each cup to order. More sugar for the chubby pre-adolescent boy who sat bleary eyed with his wiry grandfather. An extra ladle of milk for the elderly man with a cap of white hair and a stooped back beneath his simple woolen shawl. Cup after cup of instant coffee for the city boy settled in Chennai returning to his ancestral village for Pongal. As he poured, ladled, scooped, stirred and rinsed, Mohan told us his story.
In the 1970s, Mohan's father, who had been a "very poor farmer" according to Mohan, started the stall in front of his small home on the village's main road. In doing so, he unleashed a wave of entrepreneurialism that would change the family's economic fortunes. Mohan's father used savings from the tea stall to purchase several adjacent properties on what has now become Rettanai's major commercial strip, which features a string of kirana general stores and small businesses.
The rental income from those properties allowed Mohan to diversify into commercial agriculture. For the past ten years, he has bought a contract to harvest a nearby 30-acre mango plantation. He pays 300,000 rupees (about $5,000) for the contract and makes about 200,000 rupees profit per year by hiring farmworkers and selling the produce.
With these additional sources of income, Mohan does not need to run the tea stall to feed his family. But he says he will not leave it because of the important role it plays in the community. "People come here everyday. They find out if someone needs work on their farm. If someone is going to Tindivanam [a nearby city], they come here and see if anyone needs them to buy something. Where would they go if I closed?" Mohan asks.
The tea shop has given Mohan's wife Rajeshwari a chance to try her hand at business as well. She has converted the front room of their house, which opens up to Mohan's tea stall, into a restaurant serving her homecooked food – tiffins of idli, dosai, and vadai in the morning and lunch meals of rice, lentils and vegetable curries in the afternoon.
The couple is disciplined with their money. Income from the tea stall and restaurant is used for daily needs, money earned from the adjacent storefront rentals goes toward monthly expenses, and profits from their mango harvest business are saved for big expenditures like their children's tuition fees.
Education will help ensure even greater opportunities for Mohan and Rajeshwari's children, but will also likely mean the end of the tea stall. Their children are working in Chennai, which Mohan still calls Madras. Their son, 21, completed a mechanic course; their daughter, 22, has received a bachelor's degree in computer applications.
Mohan says there is no chance his son will take over the shop. "Never. He's over qualified. This looks simple but it's a backbreaking job. You need to stand all day and get up early. I want something better and easier for my children."
But despite the challenges of running a tea stall, Mohan says he will keep serving chai as long as he is able to work. "I am very attached to this shop. I will never leave this place even if I make more money. This is in my blood and it is where I came from. I am very proud of this place. Without tea, I would not have been able to grow my business. I will not just leave it behind."